Useful and plentiful storage is essential around the home if you value a tidy and serene space. This is especially true in the bedroom with so much to store – from clothes to bedsheets, shoes, accessories and more – it's important that everything has a home of its own, so you can avoid cluttered corners and the dreaded 'floordrobe'. Organisation experts like Marie Kondo and The Home Edit, have generated a renewed interest in decluttering and tidying and the bedroom is a great place to focus on. New bedroom storage trends are emerging which focus on personalising and making the most of your space, to create storage that maximises space and suits your style and needs. Your bedroom storage could even (in the words of Marie Kondo) spark joy!
If you're looking for new storage ideas, or simply want to update your bedroom, then the following design ideas will provide plenty of inspiration to get organised.
Spare room renovation
For those with the space, a spare bedroom is the ideal place to create a walk-in wardrobe or dressing room, dedicating an entire room to the storage of clothes, shoes, handbags and accessories, as well as providing somewhere to get ready for the day. With a walk-in wardrobe, there is no need to worry about sifting through overfilled drawers to find favourite outfits! By creating a bespoke, personally designed space, everything can have a dedicated place, so each item is easy to find and neatly displayed, or hidden away. Whether more space is needed for shoes, or extra hanging rails are required for long dresses or suits, walk-in wardrobes can be tailored to exact requirements. Having a walk-in wardrobe or dressing room will also provide extra space in the bedroom, creating a calm and restful area, which is said to encourage better sleep.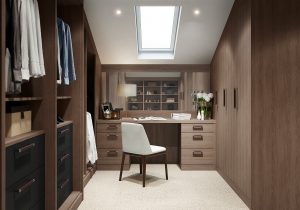 Fitted wardrobe units
If you don't have space for a dedicated dressing room, a built-in wardrobe in the bedroom is another option that's becoming popular again, having shed its dated 70's look. Built-in wardrobes are a sleeker alternative to chests of drawers and free-standing units, which can make the room feel crowded and don't offer as much storage space. With a fitted wardrobe, you'll not only be able to tailor its style to your bedroom interior, but you can also design its internal space, to help create a neat and tidy storage solution that seamlessly blends with your interiors. Installing mirrors on the fronts of your built-in wardrobe will also help to create the illusion of a more spacious room and bounce light around, while also being very useful for putting an outfit together in the morning. Another comment our customers often make when they switch from free-standing storage pieces to built-in wardrobes is that they love that there are no flat surfaces to collect dust!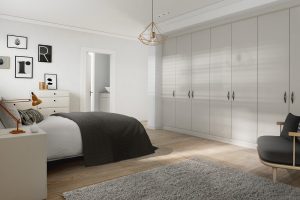 Less is more
You might want to channel modern industrial decor in your bedroom, so a more intricately designed wardrobe unit might not be what you're looking for. Instead of a mix of hanging space, drawers and shelves, you could opt for a simpler wardrobe unit, featuring open hanging rails. Leaving rails and shelves exposed has become popular, as it gives the impression of a more open space, rather than hiding everything behind decorative doors and handles. With exposed rails and shelves, you can also see what you have easily, and is great for showing off your favourite outfits!.
Show off what you've got
While built-in wardrobes can be a great way to hide clutter, they also provide a means of showcasing your favourite pieces. Don't hide your favourite handbags or accessories away – add open shelves or glass fronted cupboards to create a home for them instead so you can show them off! It will also help keep them in tip top condition and extend their lifespan by saving them from being squeezed into a cupboard.
Storage in the smallest spaces
If you're looking for the perfect storage solution to fit into an awkward space, getting a piece of furniture designed to your exact requirements is often the only option. Small and fiddly spaces, where a standard chest of drawers or storage may not fit, can be an opportunity to create bespoke storage solutions that give your items a unique and quirky home. Be it an alcove or a vacant space underneath your window, they are the perfect places to create small pieces of storage that can come in handy for stowing your cushions, bed linen, make-up, your collection of ties or maybe even the evidence of your Christmas shopping. Whatever it is you need storage for, Creative Interiors can help you to utilise even the smallest nooks to give your items a home, whilst complimenting the surrounding space.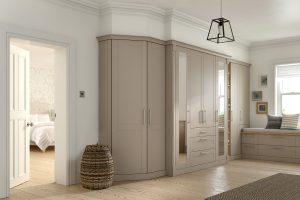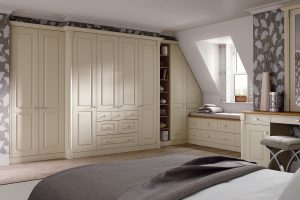 If you're looking for a bedroom storage re-vamp or want to create a walk-in wardrobe of your own, get in touch so we can help. Our team of expert designers can work with you to create on-trend storage that looks great and makes the most of the space you have.