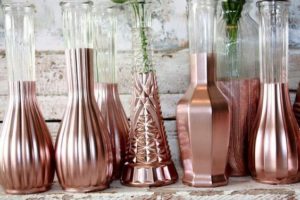 Out of all the upcoming trends for 2017, one that we're most excited by is the use of copper and rose gold in interior design.
This combination of metallic shades has long been seen as a staple on the catwalk to add a shimmer of warmth. They've also been featured as a favourite for jewellery designers, creating a welcome addition to the traditional golds and silvers.
Here's how we recommend using these delicate colours to add a touch of shine throughout your home:
Accents of copper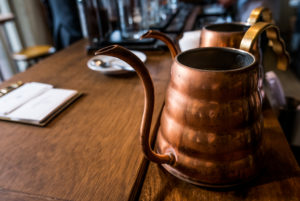 In the home, there have been years in which we've seen the inclusion of copper as the main focal point of a room – such as kitchen units or baths.
But for 2017 copper is taking on a new role as an accent colour. Particularly in German kitchen design, the trend of ultra-white block colours lends itself to strong accent features that complement and highlight this sleek look. We've seen this filter into British kitchens too – with a preference for cleaner cabinets and worktops over wood with a design.
By bringing in copper handles or fittings, a kitchen becomes clean and modern without needing an entire redesign. This is the perfect way to update any kitchen without spending a fortune.
Rose go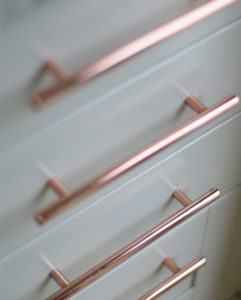 ld in the bedroom
In the same way that copper can brighten up a kitchen, rose gold can do the same for a bedroom.
If you're looking to redesign your bedroom, pairing a pale wood (such as Ash or Pine) with rose gold handles or accessories will add a subtle finish, without overshadowing the natural warmth of the wood.
We recommend introducing small elements into your space to begin with – think photo frames or small baskets. Position in areas that catch the light from either a window or lamp to really have an impact.
Adding metallic hues to your home
This trend works well as you don't have to change your entire home to bring elements into your space. All it takes is a little creativity and a consideration for the design features you already have.
For inspiration, we've created a Pinterest board and a Facebook album for you to browse through.
Be sure to send us any photos of how you use copper or rose gold in your home.