How to achieve a stylish minimal look in your kitchen
Minimalist decor has been popular throughout the decades – from the original movement in the 60s to today's Scandi-influenced furniture. The main principles of minimalism include:
uncomplicated design
clean, light spaces
simple details
For every room in your home, embracing this trend helps to make small spaces look bigger and has been proven to calm a busy mind.
If you have a hectic family home, there's no harder room to embrace this clean look in than the kitchen. Once only a popular attribute of high-end kitchens, minimalism is now rapidly developing into one of 2017's most desirable kitchen looks.
To achieve an enviable level of minimalism, we've got a few simple steps to get you on your way:
Out of sight, out of mind
To begin with you're going to need storage. And lots of it.
In most homes, kitchens can easily become cluttered – with pots, pans and those odd jars that won't fit in the fridge. To achieve a minimal home, it's important that the objects you don't use regularly are stored away, not left out on worktops or tables. This is why storage designed around you is vital.
Use a combination of sleek drawers, floating cupboard modules and cabinets to help you stay organised and find a home for every awkward-sized container. These simple storage solutions make everything
in your kitchen more accessible – and significantly easier to keep clean.
Disguise ugly appliances
Minimalism is all about the flow of a space and how smooth lines correspond with each other.
Appliances such as fridges and ovens are mostly designed for convenience, often making them a clunky addition to your new sleek look. Without spending a fortune on new devices, embracing minimalism can help you hide them stylishly.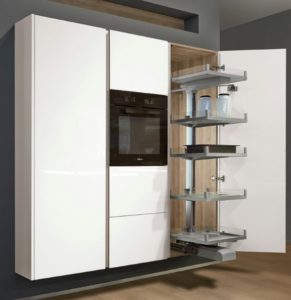 If you have undercounter appliances, try pocket sliding cupboard doors on your island units. These allow you to cover appliances while keeping them accessible for use on a day to day basis. For freestanding fridges, building out your storage and attaching cupboards to fridge doors will allows block colours or wood to flow uninterrupted.
Using colours and materials
When it comes to colour, minimal themes can feel harsh with contrasting whites and blacks. For a modern twist, expand the colour palette by adding a hint of cool blue, warm grey or pinky-white.
Or try bringing a touch of nature into your new minimal look by adding clean, white wood. Use panels of plain Pine or Ash to break up areas of block colour. This will warm up colder-themed rooms and compliments cleaner colours.
Inspired by minimalism?
By embracing this trend, you'll learn to enjoy one thing at a time and appreciate your belongings more. If you're ready to bring minimalism into your home, take a look through our Facebook album for more ideas and be sure to send us photos of your home's minimalist features.