As the busiest room in the house, the kitchen is the place that needs the most TLC. Muddy footsteps, soup spillages and mountains of dishes can all leave your kitchen looking lacklustre, but giving it a design overhaul doesn't have to be a mammoth task.
Working with our design experts, here are some ways you can make sure your kitchen looks the best it ever has, just in time for the new year.
Invest in your worktops
Often the first detail we notice in a kitchen, striking worktops add that extra-special touch to the heart of the home. Marble and quartz are two on-trend finishes that are predicted to skyrocket in popularity in 2018 – we recommend investing before the year is out.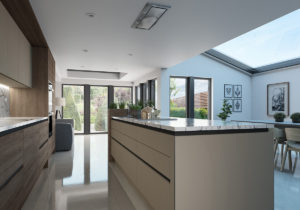 Generous worktops don't just look luxurious, they can help encourage creativity in the kitchen. Trying new dishes and experimenting with decoration such as fresh flower displays are just two ways that extra space can give your kitchen a whole new lease of life.
Streamline your storage
Apart from standing on plugs and tripping over Lego (again), banging your head on a corner cabinet has to be the ultimate annoyance. It's time to say no to cumbersome cupboards and seek out clever storage solutions instead.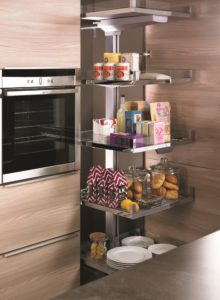 Effective storage is all about hiding away unsightly or hefty items and turning attractive or sentimental ones into an eye-catching focal point. Under-counter or integrated appliances are a stylish way to save space, while open shelving and utensil racks are a great way to show off your favourite kitchenware pieces.
Experiment with luxe finishes
Sometimes a quick touch-up achieves better results than an unneeded transformation. It's usually the overlooked smaller details that make the most difference to a new aesthetic.
From metallic accents to wooden flooring, luxe materials can help to create a timeless look that never goes out of style. Our tip? Match your appliances to handles and knobs (in a classic material such as stainless steel) for an even sleeker finish.
Practicality is king
While it's easy to prioritise fancy lighting and statement tiles, it's important to keep functionality at the heart of your redesign. To keep things focused, we'll help you to consider how, when and why you use your kitchen and reflect that in your design from the get-go.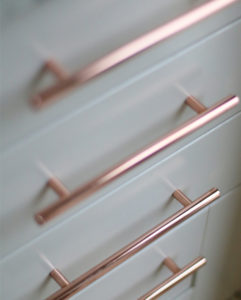 Think deep drawers that slide neatly away, big sinks that even that casserole dish fits into and a simple white colour scheme that complements your existing soft furnishings (a real penny saver). You may not think it, but prioritising usefulness over style is the secret to that 'wow-factor' end result.
Inspired to get the ball rolling?
If your head is buzzing with ideas let our design team talk you through the next steps. Pop into our Derby showroom for a natter or give us a call and we can visit you at home.
From our first chat, we'll help you to visualise your new-look kitchen and make sure each detail works around your lifestyle. What are you waiting for? Your dream kitchen is only a few short steps away.