We've all heard that statistic about spending around a third of our lives in bed. For much of that time, we are happily unconscious in the land of nod. But how about the time you spend in your bedroom when you're not asleep? How does it make you feel? What mood do the interiors evoke?
The space you go to sleep and wake up in can influence your day, be it positively or negatively. If your bedroom could be doing better in that department, it might be time to think about renovating. Here is our advice for designing a bedroom that comforts, cocoons and calms.
Colour
Colour has an enormous impact on mood, so think about how you want to feel when you're in your bedroom. Light neutrals might help you to feel calm and clear-headed, deep rich colours might make you feel cocooned and cosy. The psychology of colour affects everybody differently – it's very personal.
Think about the light in your bedroom in the early morning and late evening – this is when you'll be in the room so choose colours that work well with the light at those times of day.
Storage
Storage is key in the bedroom – we keep so many things in this room, so creating space for everything can be a challenge. A tidy room promotes better sleep and will help you feel calmer. Smart storage solutions can create a place for everything and make best use of the space you have. Built-in solutions can look neater and maximise every square inch of storage – there are plenty of options to suit every interiors style.
If you have open shelves, a mantlepiece or any other surfaces, try to declutter them and display an edited collection of items that 'spark joy'.
If you have any tech in the room, try to find a storage solution that can hide it when it's not in use, so you can completely unplug and unwind. It's especially important for devices with flashing power lights that can disrupt sleep patterns.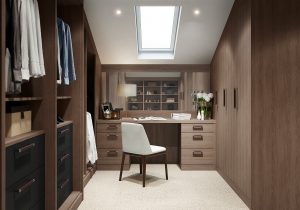 Lighting
Installing a dimmer switch creates flexibility and allows you to set the mood easily. Most bedrooms have a ceiling light but think about placing lamps around the room too, for softer light, as well as good reading lights at the bedside. Having multiple light sources around the room will help diffuse the light, creating a calmer, warmer ambience.
Make sure the bulbs in your bedroom are warm white as it will make the room feel cosier and is more conducive to sleep. Creating a soft glow with an aromatherapy candle while you're getting ready for bed is a relaxing ritual – we love this one.
Plants
Plants are beneficial for so many reasons. They look beautiful, their presence is good for mental wellbeing and they purify the air. For the bedroom, choose a plant that absorbs CO2 in the day and releases oxygen at night while you sleep, like a Sanseveria or Boston Fern.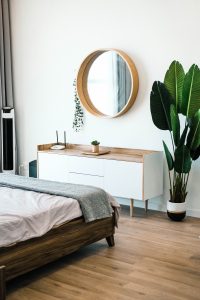 Soft furnishings
Bed linen, rugs, curtains, cushions and blankets all help to create a cosy nest, as well as contributing to the style of the room.
Window dressings – curtains, blinds or shutters – are especially important in the bedroom as you will use them more than anywhere else in your home. Think about what window dressing will complement your décor. Also consider how you sleep – do you need the total darkness that heavy blackout curtains or shutters will provide, or do you prefer to wake with natural light coming through floaty curtains or a linen blind?
Think about having tactile rugs around the room and perhaps next to your bed, so the first thing your feet touch in the morning brings a moment of comfort.
Choose bed linen that you love the look and feel of and dress the bed with luxurious cushions and blankets – it will make the room feel like a sumptuous sanctuary.
If you're in need of some ideas and inspiration, head to our Design Gallery.
If you've decided it's time to renovate your bedroom and make it a restful space that you love spending time in, get in touch with us. Our experienced designers can help you to maximise the space that you have, with made-to-measure solutions. We can help you create a bedroom that feels like the calming retreat you deserve.