Renovating your kitchen not only gives you the opportunity to create a beautiful new space to show off your style, but it also gives you the chance to transform your kitchen into one that best suits your needs and lifestyle. Kitchen islands have become favoured additions to kitchen designs over the years, with excess space being used to provide added aesthetic appeal and practicality. Adding an island to your kitchen design can transform its look and feel, whilst incorporating effective storage solutions, leaving you with a stylish and tidy space.
It's also important to carefully consider how you want your kitchen to be used. Over the years, kitchens have evolved from a (usually small) space reserved solely for cooking to being the hub of the home – a place where family and guests can gather, socialise, and be entertained. So, it's important that your new space is designed accordingly.
While kitchen cabinets can offer plentiful storage and free worktops from kitchen paraphernalia, there is still often a shortage of workspace and storage and counter tops can become cluttered. If you've got the space, an island is a great addition to the kitchen as they provide extra adaptable workspace and added cabinets and drawers, whilst also creating a natural focal point for family and guests, so you can still be a part of the conversation whilst rustling up a Sunday roast or mixing some cocktails.
There are many different types of kitchen islands to choose from, so if you're thinking about having one in your kitchen, the following designs might help you define what would work best for you and your home.
For multi-taskers
For those who love to cook while they entertain, or flit between sending emails and making dinner, a functional kitchen island would make the perfect addition to your kitchen. With a hob, sink, drawers, cabinets and a worktop all on one counter, you have everything you need at your fingertips. Re-locating the hob or sink – or both – onto an island also frees up space on the other worktops, allowing family members to use the kitchen without the area becoming overcrowded. A functional island also gives you the perfect space for plating up food, so you can plate up straight from the hob, so there's no need to move hot pans across the kitchen. With the addition of a sink or dishwasher, the worry of bumping into others is also eliminated – creating a safer and calmer kitchen space.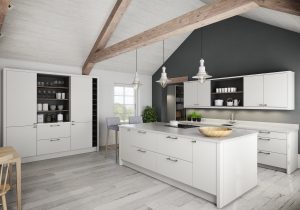 For entertainers
With the kitchen increasingly being used as a space to socialise and entertain, the addition of an island makes for the perfect informal dining area – creating a bar-like counter for people to sit at. Whilst chopping vegetables or preparing a salad, you can help the children with their homework, or chat to guests whilst you cook, meaning you won't miss out on whatever's happening, rather than facing a window or wall while you're cooking, which is often the case with traditional workspaces.
Islands can also help to create a unique space and divide your kitchen into 'zones'. An island partially disconnects the cooking space from the socialising and entertaining area, helping to create different areas without walls.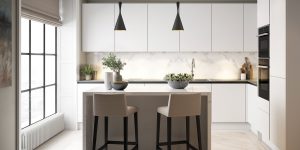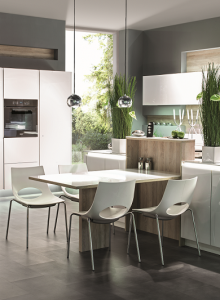 For those with clutter
If you're struggling with storage, an island can be the perfect addition to your kitchen, using up empty excess space in the middle of the room and providing valuable storage. Whether it's plates, your wine collection or the odd bits and bobs that accrue through family life, an island can provide the perfect storage solution for all the things you struggle to find a space for. Instead of using up workspace to store your appliances and utensils, you can design your kitchen island so it can store them perfectly out of sight. You can also add a range of drawers with different depths so larger pots and pans can also be stored away, instead of being left on the hob or kept in a cupboard. Exposed shelves can be used to create an open design and are perfect if you're looking to store something that needs to be easy to reach whilst cooking, or want to show off your collection of cookware or crockery.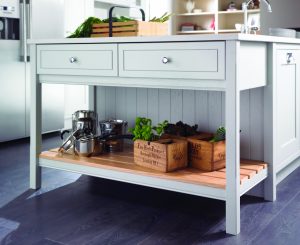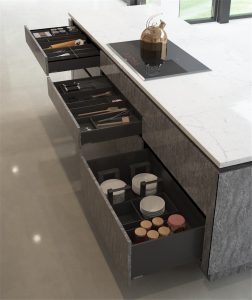 Kitchen islands present lots of different possibilities, adding versatility, storage and a design statement to your kitchen. With so many different ways to customise them, you'll be able to find the perfect island to suit you and your home. Here at Creative Interiors, our expert design team create kitchens that make the best use of your space and match your aesthetic vision. With a range of premium kitchen suppliers to choose from, we can help you create a kitchen that you love and that has all the space and storage you need and more.
So, if you're looking for some inspiration, visit our showroom to see how an island could work in your space, or book an appointment with our design team so we can start bringing your dream kitchen to life.