Any home renovation can be an important undertaking and something you've dreamt of doing for years, so it's important to get everything right. You want to create the perfect space for you and your family, designing each room so that each one fulfils its purpose and look good too. This means that even the smallest features in the home should be considered so you can create the perfect hub of functionality and style.
Transform your kitchen into a true reflection of you!
Kitchens have become central to our lifestyle and homes, and we now spend more time in them than ever before. They have become a room where you can really reflect your personal style, down to the very finest details. Your kitchen perhaps says more about you and how you live than anywhere else in your home!
When you're planning your new kitchen, it can be easy to overlook the smaller details, but it's important to give these features careful thought so that every style choice fully exhibits your tastes. Choosing a kitchen tap may be a simple decision for some, but there are a multitude of designs to choose from that suit both contemporary and traditional spaces, so it's worth considering them all to get a feel for what would work best for you. Whether you want your taps to match the tones of your worktops or contrast with cabinetry colours, there's an option for everyone! Some modern taps even come equipped with a range of handy features, so yours can provide you and your family with more convenience, making every day cooking (or even making a cup of tea!) that bit easier.
Here at Creative Interiors, we supply hardware brands that create a wide range of beautiful taps that really make a statement, furnishing your home with a beautiful feature that can be adored for years, retaining its style whilst delivering on function.
If you're looking for a tap that does it all, Quooker supplies just that. With a range of shapes and finishes, there is a Quooker tap to suit every décor. For more traditional spaces, the stainless steel, nickel and gold designs provide a beautiful complimentary offering, blending perfectly against plain walls whilst adding an elegant accent to more embellished areas. Whether you want your tap to be a stand-out feature, or blend in seamlessly, there's a Quooker tap for you.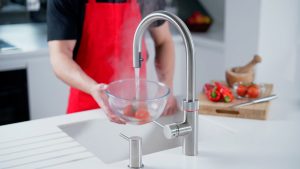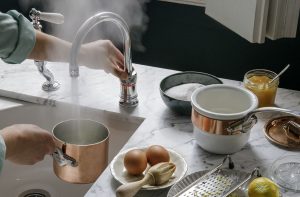 Alternatively, if you're designing a less traditional kitchen, the patinated brass and black finishes allow you to truly invest in fully reflecting your style within your kitchen. So, if you're looking to achieve a rustic décor, the patinated brass Quooker tap can blend in perfectly. Also, with the choice of a round or square shapes, Quooker taps give you even more flexibility so you can choose exactly what works best in your space for a more rounded organic look or a more square industrial feel.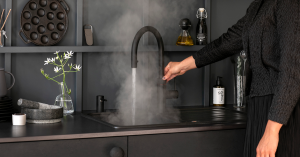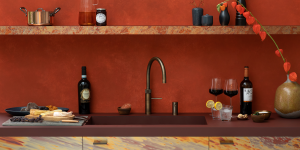 In combination with its sleek design, Quooker taps offer an array of features that make cooking, entertaining and washing up simple, easy and enjoyable.
The Quooker Flex
The Quooker Flex not only delivers a tap that dispenses boiling hot and cold water but is the only Quooker tap that offers a flexible pull-out hose. This addition allows you to wash your vegetables without getting surfaces wet and even gets to part of the sink you wouldn't be able to reach otherwise, so you can keep the space nice and clean without any hassle.
The Quooker Fusion
With the same great ability of providing boiling hot and cold water, the Quooker Fusion tap is the perfect choice if you're looking to embrace a truly unique style as it is available in all finishes – polished chrome, stainless steel, gold, black and patinated brass. It is also available in the round and square design, providing you with added flexibility.
The Quooker CUBE
For those looking for the ultimate Quooker experience, the Quooker CUBE can help save you time and space, as well as making life in the kitchen even easier – all whilst reducing waste and helping the planet too! The new function, that can be installed next to the Quooker tank, allows you to dispense chilled and sparkling water. Using the same mechanism to dispense boiling hot water, the illuminated light will flash blue, serving you with a convenient way to refill your cocktails or keep yourself refreshed with something different. If you're looking for chilled water, simply hold down the mechanism a little longer and you'll be met with a crisp glass of filtered water, so you can stay hydrated and enjoy the very best water at home and on the go.
Ben Rose, Business Development Manager at Quooker, spoke to us about the Quooker CUBE and its benefits: "With a Quooker CUBE, you'll get filtered, chilled and sparkling as well as 100 degrees boiling, and regular hot and cold water. Say goodbye to plastic bottles! With a reusable bottle you can enjoy the crisp taste of Quooker's chilled and sparkling water on the go. What's more, you're saving the planet! The CUBE also saves water. Have you ever left your tap running for a while to get cold enough water to drink? What a waste of water! With a CUBE, you can enjoy the immediacy of super chilled, filtered water without having to wait or more importantly waste litres of water."
Design your bathroom with accents of style
It's not all just about kitchen taps though! Vitra, our bathroom hardware supplier, provides countless options for you to transform your bathroom into one that exudes the perfect sense of style too.
With a number of different shapes available, including the Basin Mixer and the Compact Basin Mixer, Vitra lends itself to providing traditional yet modern designs that offer sleek and compact taps that blend in seamlessly with your overall bathroom furnishings. Alternatively, with the choice of matt black and copper taps, Vitra gives you the flexibility to choose unique taps for bathrooms that attempt to achieve a more individualistic look.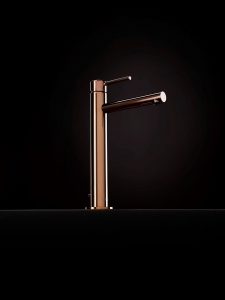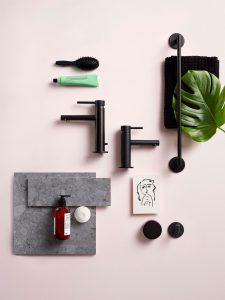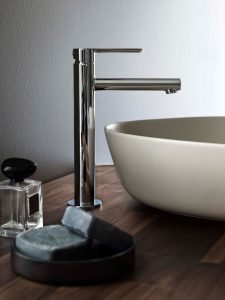 Here at Creative Interiors, we're passionate about helping you create a space you'll love. If you're embarking on a renovation, we can help you design every detail, from your wardrobes to your kitchen and bathroom taps. Get in touch today and our design team can help you transform your home into your dream space.