We all know that your quality of sleep can make or break the day ahead. That's why the bedroom is one of the most important rooms in the home – it's our own private space to relax, recharge and reflect.
Yet, more often than not, it can be neglected when it comes to design and décor. But, we should never underestimate the power of a well-appointed bedroom to help us get the best beauty sleep possible!
To transform your sleeping quarters into a blissful sanctuary space, the key is to find the perfect balance between style and function. We've teamed up with our expert designers to share our top tips for creating a calm, well-organised bedroom.
Experiment with layout
Space is often at a premium in the bedroom, yet the layout of your room can really impact its feng shui.
When it comes to placing furniture, we recommend beginning with the bed as it's the largest and most important piece in the room. Place your bed centrally along the main wall with the foot of bed furthest away from the door, as this will create a symmetrical, flowing aesthetic that immediately calms the mind.
Think about how you use your bedroom most. If you like to watch TV in bed, ensure there's space for a stand at the foot of the bed, or if you use your space to get ready for the day ahead, position your wardrobe and mirror close by.
As a general rule, tall dressers look great in the corner of a room, while low storage solutions like ottomans or chests are perfect for underneath windows.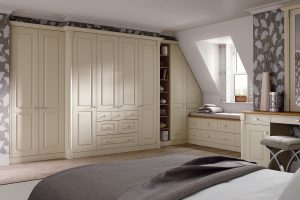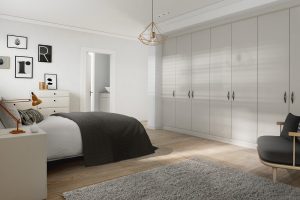 Cut the clutter
They say that a tidy home makes for a tidy mind, so decluttering the space where we sleep is the first step to helping our minds switch off when it's time to unwind.
Begin by clearing surfaces of objects and mess, and instead replace with a few carefully selected accessories, like candles, plants and photo frames. Bedside tables with drawers are perfect for keeping those night-time essentials within easy reach yet neatly stored out of sight.
It goes without saying that plenty of storage is a must for organising your belongings, whether it's clothes, bed linen or books. Consider multifunctional smart storage solutions, like a bed with integrated drawers or an ottoman frame to maximise the space available.
Fitted wardrobes and built-in shelves are a great way to make the most of awkward spaces or alcoves and complement the bedroom design seamlessly. Our team of expert designers are more than happy to help you find the right fitted wardrobe to work with your room!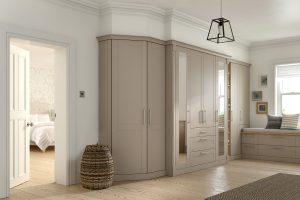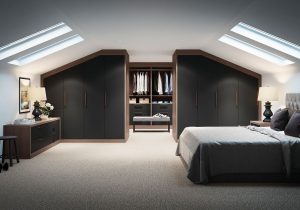 Select your colour scheme
Colours have the power to change our mood dramatically, so think carefully before selecting the scheme for your space. Of course, colour choice is down to personal taste, but bright colours like sunny yellow or bold red, may not be the best for creating a calm oasis.
Instead, minimalist neutrals or soft shades of pastels will bring a sense of tranquillity and relaxation – just remember to incorporate a variety of hues and texture through furnishings and art to add depth.
Darker, rich tones, like deep blues or emerald greens, will create a warm, luxurious and cosy ambience, but make sure you have enough natural or artificial light to help you get out of bed in the morning!
Don't be afraid to be bold with accessories when it comes to colour. Throws, curtains and cushions can easily be updated and can transform the space entirely.
Appeal to all of the senses
Once you've got your design and décor down, look at how you can make your space a calming sensory experience that appeals to our sense of touch and smell as well as looking stylish.
Scents have the power to transport us to another world, evoke memories and lull us into a state of calm. Incorporate comforting fragrances into your bedtime routine with bath salts, oils and candles, to help you immediately relax and drift off to sleep, like lavender, vanilla and cedarwood – just don't forget to blow out any scented candles before you drift off!
A mix of materials for cushions, rugs and throws, like velvet, silk or faux fur, will create a sumptuous, plush bedroom that you'll be longing to snuggle down in at the end of a busy day.
Head to our design gallery for more bedroom inspiration.