With the evenings drawing in and the nights turning that bit cooler, it's usually the season when we spend more time at home, snuggled up on the sofa or in bed with a book and a cup of something hot. It's also the perfect time to inject some warmth into your bedroom, transforming your personal space into one that welcomes, soothes and cocoons. Whether you're looking to make a few subtle changes to your décor or transform your bedroom entirely, we've put together our top tips for creating the ultimate cosy autumnal retreat.
Introduce a warm and rich colour palette
Deep hues of burnt orange and mustard, burgundy and brown are synonymous with the autumn season, mimicking the beauty of nature at this times of year and bringing the outdoors in with earthy tones to ignite a warm glow throughout the space.
Adding colour doesn't have to mean painting the walls, though. Of course, you can create a statement with your walls or you can simply incorporate different shades and tones with accessories. Don't be afraid to experiment with unusual art and ornaments or plush pillows, throws and rugs – they can be easily changed to suit the season, but they also add interest and texture to the space. A combination of shades from the same rich palette can add real depth to the room too. Why not pair subtle shades of burgundy with pops of ochre to create a stylish statement and fully immerse yourself into an autumn haven.
 Switch up your lighting to create a cosy ambience
As the evenings draw in and we prepare for the clocks to fall back, natural light can be in short supply, so creating a relaxing ambience it vital. It can be easy to switch on bright overhead lights to introduce as much light as possible, however, these lights can cast quite a stark brightness across the room and disturb that all-important fall feng shui. Instead, to create an ambient atmosphere, consider introducing spotlights and dimmable switches to allow a warm pool of light to fill the room as desired. Lamps, whether they're for the table or floor, are perfect for providing gentle lighting and can be switched on instead of main lighting to cast a cosy veil around your bedroom
Incorporate smart storage to welcome a serene space
They say a tidy space makes for a calm mind, and while a calm surrounding can easily be created with colour, texture and lighting, it's impossible to feel relaxed while surrounded with mess! Cluttered corners and overcrowded counters will do nothing to help you switch off at the end of the day, so it's important that your bedroom is well equipped with plenty of storage.
luxury furniture brand, Daval Furniture, creates both practical and stylish storage solutions for you bedroom, so you can relax knowing everything has a home of its own. Fitted wardrobes, under-the-bed storage and built-in shelves are a great way to maximise space that is otherwise unused, and can be designed to suit your individual taste and style.
Carefully considered storage solutions will allow you to keep surfaces clear and everyday essentials stored neatly out of sight while scented candles, photo frames and finishing touches take centre stage.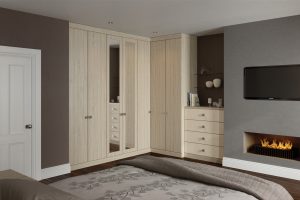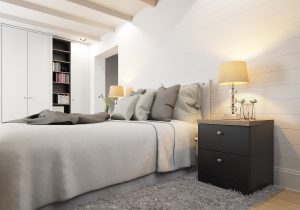 Refreshing your bedroom to create a cosy, relaxing room is essential for those autumnal months, whether you're looking to update your interiors with small changes to accessories and upholstery or to make more significant design changes to your space. Our expert design team have a wealth of knowledge to help you create the perfect bedroom that delivers on style and storage, whatever the season. Book an appointment to talk to our team and make your dream bedroom a reality.
For more design inspiration visit our gallery or follow us on Instagram.