The everyday hustle and bustle of life can be stressful enough, but with the festivities fast approaching, we often find ourselves running around with no time to spare between preparing for the big day and spending time with friends and family. But in the midst of all the preparations and celebrations, we often forget to set aside some much needed 'me time' to escape the chaos and truly relax and disconnect.
Indeed, even in the house it's hard to find the space for a moment's peace and quiet, but the bathroom is the perfect place to shut out the world and unwind with a long bubble bath or hot shower.
Whether you're looking to renovate your space or are wanting to refresh your existing interiors to indulge in some festive relaxation, we've put together some of our tips for creating the perfect spa-like bathroom.
Opt for a calming colour scheme
Colours and shades have a way of evoking certain moods, so it's important that you consider the colour palette you would like in your bathroom carefully. If you're looking to escape the noise and lights of the festive season, incorporating hues of beige, white and light grey can transform your bathing space into one that invites a calm aura, making it the perfect place to retreat to for some tranquillity.
To inject more colour into the space, use bolder shades of blue and green that add some warmth to your space whilst still managing to maintain a relaxing ambience.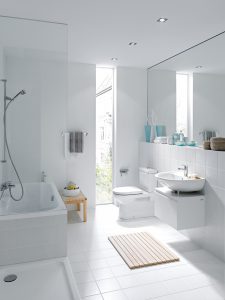 Bring the outdoors in
different colours may help to induce a sense of calm, there's no better remedy for relaxation than nature. Biophilic design has become extremely popular within bathrooms this year, with nature proven to help relieve stress, reduce blood pressure and heart rate and boost your mood. Bringing elements of the outside into your bathroom, like plants and natural materials, can therefore act as a great way to de-stress during the festive period. Simply shut the door and soak in the power of the plant!
Humidity loving plants will work best in your bathroom, so aloe plants, snake plants, monstera's, golden pathos and even bamboo will thrive in there. Artificial plants are also a great addition for mimicking the great outdoors, and you don't have to worry about looking after them!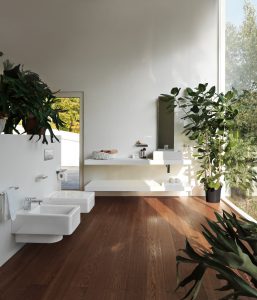 It's all about lighting
Biophillic design favours all elements of nature too, including natural light, so opt for that instead of artificial lighting to create the ultimate relaxing oasis. Clear any windows of blinds or clutter to welcome as much light in as possible. If you have limited natural light in your space, make use of mirrors so the light can bounce around the room, making it feel brighter naturally. Opt for mirrors with integrated, dimmable lighting that will cast a soft glow around the room that encourages relaxation. Mirrors with soft lines and organic shapes are great too, such as ovals or circles, as they keep your interiors subtle.
For the ultimate end of day relaxation though, lighting candles and turning any lights that you do have off creates a warm, inviting space to unwind. The warm pools of light and comforting scents, like jasmine, lavender, fig or pine, from candles can help you easily drift into a state of serenity and leaves a heavenly scent behind!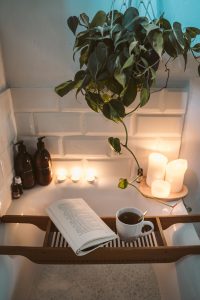 Hide the clutter
Clutter can easily disrupt the illusion of a calm space, so finding ways to hide or organise your bathroom products and everyday essentials can help you to unwind. Our suppliers, Vitra and Laufen, both offer storage solutions so you can give your items a home of their own and clear surfaces of unattractive clutter.
Whether it's vanity units or cupboards, Vitra supplies a wide range of storage options for your bathroom as well as a host of different designs, including wood cabinets, helping to perpetuate the biophillic design, adding natural and subtle statements to your interiors.
For the ultimate in organisation, Laufen creates vanity drawers with clever compartments, meaning your toothbrush, hair products and skincare can all have a designated space of their own – creating a perfectly tidy space which can allow for a calm, tidy mind.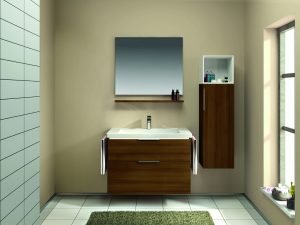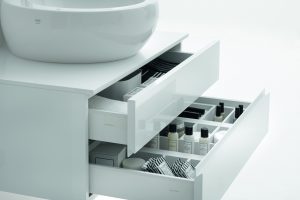 Here at Creative Interiors, we have years of experience and an expert design team to help you design the perfect bathroom for you. We also offer bespoke design solutions for your dream space and we'll walk you through the full process, from initial inspirations, sketches and custom designs to the planning and the installation! Book an appointment to talk to our team to get your dream space underway.
For more design inspiration, visit our gallery or follow us on Instagram