The countdown to Christmas Day is on, bringing with it quality time spent eating, drinking, and being merry with friends and family. It's no surprise that the kitchen often becomes the hub of the home during the festive season, whether it's preparing vegetables for the big day, pouring hours of love and attention into your annual Christmas pudding or gathering with guests around the island to share a bottle of something special.
There's no denying that making sure your guests are entertained and that the feast is perfectly prepared can be stressful. Introducing smart solutions into your kitchen can make your Christmas preparations simple and stress-free, and entertaining easy. If you're looking for some inspiration, our supplier and the world's leading sink manufacturer, Franke, has all the smart design solutions to help you take the stress out of the season.
Keep guests happy and hydrated
It's easy to forget to keep yourself hydrated over Christmas, with so much cooking and socialising to do, but it's important to keep you and your guests hydrated to stay in the festive spirit. Filtered taps, like the FilterFlow from Franke, delivers water that not only tastes better, but is healthier than unfiltered tap water too. Plus, with touch free taps, your guests can help themselves to a top up without having to push a button, offering an easy and hygienic way to stay refreshed.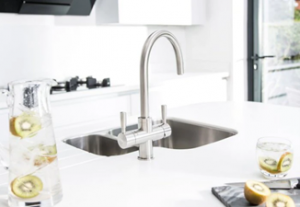 Make meal prep painless
Food preparations can be a messy job, with so many ingredients needed to create the ultimate Christmas dish. Whether it's peeling potatoes, chopping carrots or carving the turkey, clever innovations, like Franke's Rollmat and chopping boards combine style with practicality, both of which can be washed down and stored away until they need to be used.
Franke's Rollmat is a handy accessory that can drain your glasses, crockery and plates after washing them, or is the perfect surface for placing hot cookware straight from the oven which is especially handy if you like to avoid placing hot dishes straight onto your worktops. For the perfect kitchen tool that fits perfectly onto a Franke sink, its chopping boards make sure that no surface is susceptible to scratches, helping to keep your kitchen in pristine condition, despite the Christmas kitchen chaos.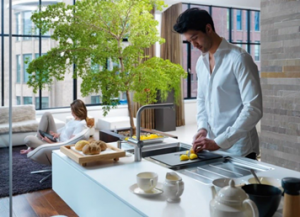 Opt for an easy Christmas clean-up
After all of the festive celebrations, it's no surprise that we all dread the Christmas clean-up, with mountains of dishes to clean, food packaging and wrapping paper to recycle, and disposing of food waste. Franke like to make life in the kitchen as stress-free and convenient as possible, and with its practical designs you can keep your kitchen tidy whilst hiding helpful appliances in plain sight.
Why not opt for a waste disposal unit to rid your kitchen of pongy food waste? With Franke, you don't have to worry about unwanted odours lingering as its antibacterial protection prevents the development of bad smells and helps the environment by flushing waste into sewers instead of sending it to landfill.
Its integrated recycling bins also help to streamline your kitchen interiors by hiding them behind your cabinets. They also give you the opportunity to sort your waste into different categories such as food, cans, plastic and paper, taking the trouble out of recycling so you can enjoy a greener Christmas and reduce waste.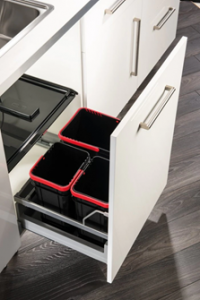 If you're thinking about transforming your kitchen in time for next Christmas, get in touch with our expert design team to have a chat about the best options for you. We offer bespoke solutions to help you create your dream kitchen and we will support you throughout the whole process, from design to installation.
You can also find more inspiration in our design gallery or you can follow us on Instagram.