Here at Creative Interiors, we are proud to work with a range of premium manufacturers to help transform your house into your dream home. That's why we're delighted to introduce the latest supplier brand available in the showroom – Smeg! Supplying stylish kitchen appliances since 1948, the iconic Italian manufacturer provides everything from sleek integrated ovens to freestanding countertop appliances, and here, we're taking a look at just some of the new Smeg innovations now in the showroom…
Dolce Stil Novo Oven with Copper Trim
The stunning integrated Smeg oven with stylish copper trim has all you need to create hearty dishes with ease. It features eclipse black glass, a premium material that appears jet black when the oven is off, but is transparent when the oven is on, enabling you to check on the progress of your dish with ease as it cooks. The oven is also equipped with a host of other smart features, including pyrolytic cleaning, a temperature probe, and two different steaming methods, and it's also rated as energy class A++!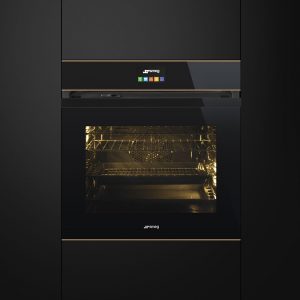 Integrated Dishwasher
Smeg's fully integrated dishwasher is equipped with all the features to make your glassware and cutlery squeaky clean, including clever dry assist technology to allow for speedy drying without watermarks, while reducing energy consumption. It also boasts active light technology, projecting a red light onto the floor when the dishwasher is in use, which then automatically turns off to alert you that the wash cycle is finished. An internal inverter motor further helps reduce energy consumption and noise level, making it ideal for open-plan kitchens and use overnight.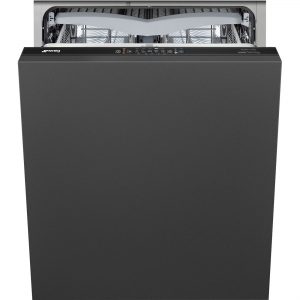 Sommelier Drawer Black and Copper Trim
The perfect companion to host a dinner party, the Sommelier Smeg drawer is packed with all you could need to ensure guests are wined and dined. Built into the kitchen unit, the sleek, black drawer contains all of those dinner party essentials, including anti-drip cork, solid steel cork for sparkling wine, champagne pliers, corkscrew sommelier, red wines cork, wine thermometer with slipcase and a wine funnel with wooden handle.
Novo Wine Cooler
The elegant and sleek Smeg cooling unit effortlessly chills and stores your wine, so that the perfect bottle is always on hand. It features a removable, sliding oak rack made of premium, natural wood – the same used to make wine barrels since ancient times. The internal structure has a handy compartment with temperature controls on the door, and shelving is evenly distributed between the racks, so that you can store a selection of your favourite bottles.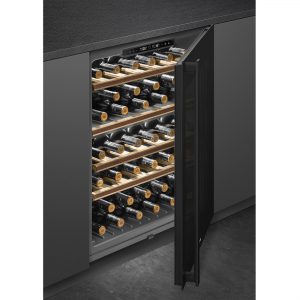 Frost-Free Fridge Freezer
This generous Smeg fridge-freezer provides plenty of space for those weekly food shops and dinner party feasts. With a 70-30 split, it offers flexible storage with three adjustable shelves and two drawers, as well as additional storage inside the door. Fully integrated, it fits seamlessly into your kitchen units, allowing for an open-plan kitchen with ample floor space. It even comes with a fast freeze and cool function to help food stay fresh longer!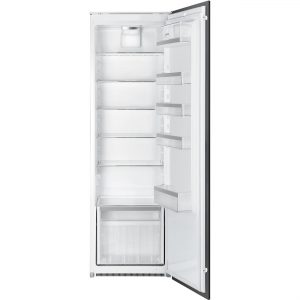 Visit the showroom today to see the Smeg range in our new Oak-Sherry display. Book an appointment today by emailing showroom@creativeinteriors.co.uk, or calling 01332 384444.