A bespoke redesign in four easy steps
Want to refresh a room in your home this year? We're guessing you've scoured Pinterest, visited countless showrooms and have every paint sample under the sun in your 'messy drawer'. And we bet you're still nowhere near ready to make your final decisions – right?
This is one of those situations where the old saying rings true: 'leave it to the professionals'. Our designers are all pernickety perfectionists (don't tell them we said that). We understand that creating the ideal room can be a tricky experience and can guarantee a process that's as smooth as possible.
Pop into our showroom and watch as we bring the image in your head to life. We'll also talk you through every detail so that you feel reassured every step of the way. Your dream room is just four super-easy steps away: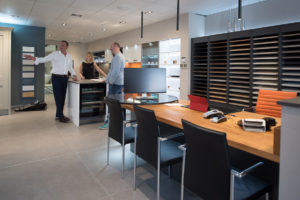 Not your average showroom visit
Sick of spending your Saturdays at showrooms?
Don't worry, these days it's easy to add something to your online basket. Just wait 6 – 8 weeks for it to arrive and when it does… it's completely the wrong shade or size. Gulp.
Here are three experiences that are sure to give you your showroom mojo back:
glimpsing that perfect fabric for the first time
spying your dream appliance and measuring up to get that perfect fit
getting inspiration from the textures and colours around you
Step into our showroom and you'll notice that we're constantly refreshing our interior – we want your eyes to be drawn to new and fresh ideas. Small updates (and big ones like our revamp last year) are our way of making sure your experience is as memorable and inspiring as possible. The end result? A eureka moment!
Our showroom consultants Lynn, Liz and Jacqui know how overwhelming showrooms can be. They'll be on hand with a friendly smile and listening ear when you're stuck between stone grey and duck egg blue. And if you decide to go for that country cottage kitchen design, good news – you're in the right place for a chat about the next stage.
Click here to take a tour of our showroom on Kedleston Road in Derby.
We'll walk you through it in the comfort of your home
We know that time is valuable so we'll come out to you. We'll chat with you about layout options and measurements, find out which gadgets and gizmos you have your eye on, and listen to what is absolutely essential for you – a Slide & Hide oven door anyone? This visit also helps us to visualise the space and your creation.
While we're there, we'll run you through timescales and budgets and make sure the process is tailored to your lifestyle. This stage will only take a couple of hours (unless we get chatting over a brew and bourbons!)
The more we know about you, the more your design will truly reflect you – it's why our designers can get those initial sketches just right. Back at our showroom our designers will begin compiling easy-to-read costings and bespoke floorplans ready for stage three.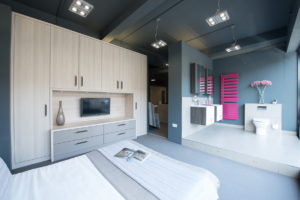 We'll get the kettle on
Join us back in our showroom to see the first draft plans and elevations. Designing your dream room is a personal experience – nothing gets the go ahead unless we're happy that you're happy.
We understand it can be difficult to visualise the end result, so we'll use 2020 Fusion CAD software to create a 3D image. Using virtual reality you can then walk through your new room and examine every detail of your luxury bathroom design and bring your design to life!
Our design team will make amendments to drawings and costings based on your feedback. To make sure there's enough time to cover all aspects of your redesign, set aside a couple of hours for this stage.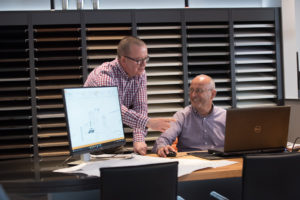 The final sweep up
After a couple more creative sessions, we're ready to talk you through the final specifications, finishes and costs so that you have peace of mind before you sign on the dotted line.
Installations can be inconvenient and time-consuming. Not with us – we'll choose a time that works for you there and then. All you have to do is put it in your calendar and look forward to the big day.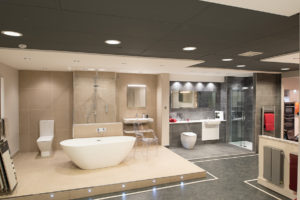 Get in touch
A redesign really can be as simple as one, two, three, four. Contact us for a chat about your next home project.