As warmer weather approaches, your kitchen will fast become the hub of your home. But this year, change is afoot…
Perhaps your children are moving out to university in the not too distant future? Or you're eager to finally host the perfect night of alfresco dining?
We're the experts in transforming family kitchens into something sleek, sophisticated and distinctly grown-up. With just a few tweaks, we can create a room that can be both a soothing sanctuary from a busy day and a thriving space for dinner parties.
Whatever the reason, it's time to make the most of your summer downtime by looking at your kitchen in a whole new light.
Make the most of natural lighting
If you're inviting friends over in the evening, remember the golden rule: light and airy equals warm and welcoming. The key to creating a summer-friendly kitchen is working with natural light. We recommend using white walls and fittings that encourage light to bounce around the space easily.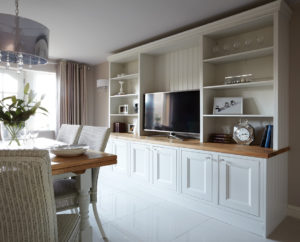 If you'd like to go minimal but are worried it may look clinical rather than inviting, we've got the solution. Balance out modern elements with British heritage-inspired designs to keep things cosy.
Our Oakley kitchen range is formed of traditional British oak and has features like pull-out trays and skirting details that look superb particularly when combined with a modern colour palette. Alternatively, take inspiration from the British seaside with our Salcombe kitchen range, featuring bleached wooden beams and tonal flooring.
Add the investment pieces you've always wanted
If your not-so-little-ones have finally flown the nest, it's time to reclaim your home. There's no better time to get your kitchen looking exactly how you want it, so why not treat yourself? Invest in the appliances you've always dreamed of and cook up a storm.
As well as smart gadgets, like self-cleaning ovens and boiling water taps, we also have a range of luxury kitchen brands for you to add to your bespoke kitchen. From Laufen's signature Swiss functionality to Daval's British luxury, there's an aesthetic to meet your every need.
One of our most popular add-ons is the quintessential AGA cooker, often nicknamed 'the heart of the home'. Handcrafted in the UK for generations and loved by Mary Berry and Jamie Oliver, these beautifully British cookers use a thermostatic control to cook food to perfection. As they're able to slow cook food, they make dinner party prep a breeze.
They're also known for keeping kitchens wonderfully warm – ideal for when the garden gets cool in the evening and your guests want to cosy up indoors.
With a range of on-trend colours for you to choose from, an AGA is a great way to put your own stamp on a piece of iconic craftsmanship. We're super-excited about their limited colour for 2017 – Dartmouth Blue.
Style that goes from day to night
When designing your kitchen, we want to bring out these features that are essential to you. From airy windows that are perfect for basking in the sun (drink in hand, of course!) to spaces that embrace relaxed, alfresco dining with friends.
To add that grown-up glamour, we'll need to chat through how you'd like to use your kitchen day-to-day. We'll walk you through each step so that you can visualise your creation from day one.
If you're imagining a comfortable retreat to get lost with a book, we can suggest a bespoke seating nook that you can sink right into. Or if you're eager to host a summer shindig or two, we may suggest an island unit (perfect for serving food and drink).
When designing the kitchen you've always wanted, every option is up to you and we're here to guide you through.
Inspired to make some changes to your kitchen?
Take a trip to our newly refurbished Derby showroom or get in touch to share your ideas.