Each year Pantone announces its "Colour Of The Year". This year's top shade is Ultra-Violet.
Whilst the thought of an entirely purple kitchen might not send you running for the paint roller, there are some ways to embrace colour in the kitchen without creating a Cadbury's Dairy Milk inspired kitchen (unless that's the look you're going for!)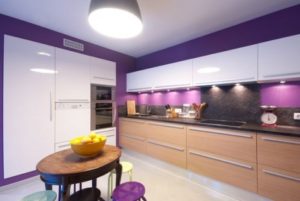 "A dramatically provocative and thoughtful purple shade, PANTONE 18-3838 Ultra Violet communicates originality, ingenuity, and visionary thinking that points us toward the future."
Add a pop of colour
Introducing colour needn't mean an onslaught of brightly decorated walls, cabinets and work surfaces. A more dramatic way of brightening the kitchen is to simply pick out some elements and have these in the colour of your choosing.
Kitchen cupboard door frontages are available in a whole host of colours and are a really easy way to add a splash of colour. Use these to create two toned cabinets; these can be subtle such as cream complemented by olive or, if you're feeling a bit more outrageous, add a splash or orange and contrast it with something even more vivacious. Perhaps that's how you can bring Pantone's Ultra-Violet to the room?!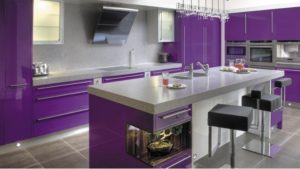 Alternatively, a coloured kitchen island can be incredibly effective. Heritage colours create a country feel, whilst neons and more vibrant shades introduce a more modernist approach.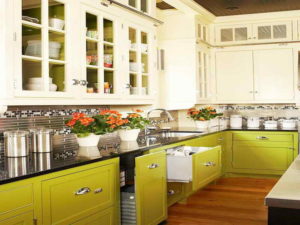 Pick out a feature, such as the window frame, to create a focal point. This works particularly well against white walls in a minimalist kitchen. A sample pot is often enough too!
Open up the fifth wall! The ceiling is often overlooked, a quick coat of coloured paint, as long as it isn't a dark shade, can completely open up a room.
There are also ways of being creative with colour without getting out the paintbrush. Freshening up your accessories with a new colour scheme can make your kitchen feel completely different! Accessories, seating, unusual lights and light shades, vivid glassware, dramatic blinds and curtains and even a bold splashback are just a few suggestions.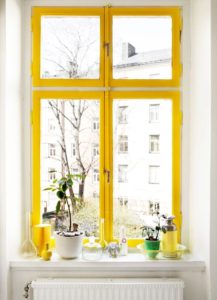 It's not all about the colour
Hand in hand with colour comes texture. Adding in layers and different surfaces are also surprisingly effective at transforming a space. Adding layers can break away from minimalism, by mixing traditional elements with a more modern feel.
Unusual textures instantly add personality and a textured worktop is a subtle but ingenious way of introducing something different to your kitchen. Gone are the days of simply choosing between granite or wood. Now the options are endless from quartz, glass, stone to Corain and stainless steel. There's then also the option of a flecked texture or a matt finish. New materials have been introduced to the market to make these more unusual materials more practical in the home. They can even come with anti-fingerprint, scratch resistant and ultra hygienic technology that also offer thermal protection to ensure they withstand everyday use.
Aside from worktops, you can also add these changes with a simple butcher's block, a wooden one in particular adds warmth as well as the practicality of additional storage. Then when it come to the floor, why not consider something more traditional like exposed Victorian tiling, terracotta slabs or wooden boards.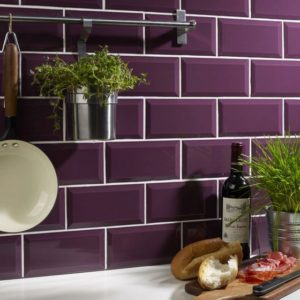 Accessorise!
2017 was all about copper accessories but 2018 is set to be the year for golds and brassier tones. If gold worktops seem a bit too extravagant, then add simple touches with golden door handles or appliances. Gold accessories such as tea canisters, fruit bowls and cutlery are an easy way to embrace this.

Last year we told you about the popularity of "broken plan living", which has subsequently resulted in living space encroaching on the kitchen to help you create your own personal space in the home. It's now not unusual to find arm chairs, rugs and soft furnishings in the kitchen which opens up a whole new ballgame for ways of introducing colour to the kitchen!
Feeling inspired?
If you're looking to transform your kitchen and would like some expert advice on how you can do that, get in touch with our expert team of designers.