Creative Interiors in Derby is celebrating its 50th anniversary!
The interiors specialist, based on Duffield Road, create and install beautiful designs for luxury kitchen, bedrooms and bathrooms. Over 50 years, our expert team has helped to transform over 7,000 homes in Derby and Nottingham.
Quality and standards lead the way
Customers value the high quality and professional standards on offer, with every one receiving personal service from design consultancy through to installation and aftercare. Which is why our customers regularly return to us when it comes to renovating a new room within the house, or after moving and wanting another redesign in their new property.
Dave Hoyes, owner of Creative Interiors, puts this down to the quality and service that customers receive.
"We pride ourselves on delivering the highest levels of quality and standards – that's what has kept our customers happy for 50 years. We get a lot of repeat business from people where we have created their kitchen then they've come to us again when they want their bedroom or bathroom designed too. They know the standards, service and quality that they'll receive so it's an easy decision on who to turn to."
Personal design expert
The knowledgeable team at Creative Interiors deliver tailored designs, featuring leading brands and manufacturers, to create the kitchen, bedroom or bathroom you've always dreamt of.
Each customer has their own personal design expert to work with throughout the entire process. They will be devoted to ensuring that every single intricacy of your space at home is considered and that all necessary tweaks needed to make it all happen are made.
Creative Interiors constantly evolves with new technology and the changing needs of customers. The team keep abreast of the latest trends and developments to advise on exactly the best options to give the special finishing touch to a design and home. From NEFF automated home appliances, Quooker hot water taps and the latest in Scandinavian style for VitrA, the Creative Interiors' designers can advise on all leading manufacturers.
The Creative Interiors experience goes way beyond simply picking the best kitchen units or bath suites. We deliver on every single aspect of your redesign and offer the complete service. We will manage the entire process, overseeing tiling, painting and electrics until the project is completed to the exacting standards expected by every customer.
Investing in visualisation
Our team recognise the importance of bringing visions to life. Which is why why have invested over £150,000 in an expansive showroom in a premium location on the edge of Derby city centre, with free ample parking. The 3,000 sq ft space truly provides inspiration for home design and mixes traditional concepts with modern favourites to showcase the industry's leading suppliers and their ranges.
"Our showroom provides real inspiration. People often come to us with a selection of photos they've gathered but it is in the showroom where we can pull it all together and showcase the brands that we work with, whilst giving a feel for everything that we do. You can't beat seeing something in real life to suss out the options, compare the alternatives and think about every single element from door handles to taps and kitchen appliances to countertops. We've got it all, combined with a personalised service and dedicated team – it's what has kept Creative Interiors thriving for 50 years" says Dave.
Visit the Creative Interiors showroom to be inspired by the latest designs and meet with a member of the team who will remove the stress of home renovation and bring your vision to life.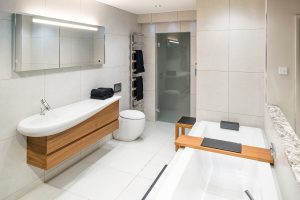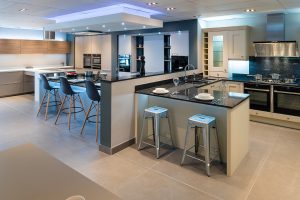 Creative Interiors
39 Duffield Road, Derby, DE1 3BH
01332 384444
www.creativeinteriors.co.uk