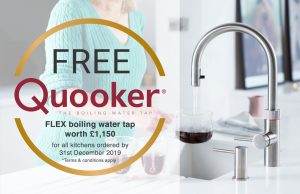 Boiling water taps have rapidly risen in popularity in the past few years, and it's easy to see why!
If you drink two or three cups of tea or coffee a day you could be spending two days a year waiting for the coffee to boil! Boiling water taps deliver 100°C water in an instant so there's no more waiting for the kettle!
They don't just save you time though, they also save energy and money. The Quooker Boiling Water Tap costs just 3p a day to use, whereas the average kettles costs about 2.5p to boil each time. Boil the kettle multiple times a day and you've instantly made a saving – it may be nominal initially but it all starts to add up over time.
Kettles are a huge source of energy wastage too, overfilling is so easy to do and we are all guilty of filling up with more than we need. A boiling water tap delivers the exact amount required so is incredibly energy efficient.
If all that wasn't enough, they look stylish too and are the perfect addition for any modern, click kitchen design wanting the latest gadgets! They also free up work space and are a great space saver for countertops.
But, are boiling water taps safe? In a word, yes! Manufacturers in fact promote them as being safer than kettles as there is no risk of knocking the kettle over and spilling boiling water. They feature a safety button so the hot water cannot accidentally be poured, and they use a lower pressure that stops splashback.
They sit alongside your normal taps in the kitchen as they also deliver hot and cold water as well as boiling.
Quooker is the only brand that store and deliver the water above 100°C, others store it at that temperature but loose a few degrees on delivery. And one could be at home in your new kitchen sooner than you think! If you order your new kitchen with us by 31st December 2019, we will give you a brand new Quooker Flex Boiling Water Tap, worth £1,150, completely free!
The Flex has a handy, flexible hose which pulls out, allowing you wash down any debris from the sink and rinse things more easily.  It has three temperature settings – 100°C boiling, hot and cold. It also has added peace of mind for safety as the boiling water will only be dispatched when in the usual position, and not when the Flex hose is in use.
Visit us in store to find out more about your kitchen makeover. Order a new kitchen before 31st December 2019 and we'll give you a free Quooker Flex Boiling Water Tap, worth £1,150*.
*Terms and conditions apply.