The new year is here and 2022 is looking more stylish than ever, with this year's design trends championing nature-inspired interiors, multi-functional innovations and effortlessly elegant aesthetics. This year, we're seeing a shift in the way our homes should look and feel. After spending much of our time at home in recent years, our interior goals have moved away from the perfect polished homes that we see on Instagram, to instead focus on creating a space that both looks beautiful and is functional for the whole family.
If you're planning a home renovation or you're thinking about sprucing up your space this year, now is a great time to do your research – Find out what trends are making their mark year after year and discover your signature style to make coming home each day a joy.
To help keep you ahead of the curve, we've put together our top four home and interior design trends for 2022, so that you can find the right style for your renovation, along with some serious inspiration from our suppliers.
Stylish, sustainable materials
Our awareness of the importance of protecting our planet has fed into our home design over recent years, meaning that the emphasis on sustainability and natural materials has become a focal point in the design world. Recycled wood and ethically sourced materials have now become a necessity when it comes to choosing the right kitchen cabinets, flooring, tiles and furniture. These items may be more of an investment, but with their durable and robust nature, they will last for years, bring character to your space, and are kinder to the planet.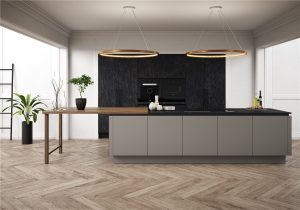 Our supplier, Daval Furniture, is passionate about sustainability and its Renzo collection empowers the eco-conscious consumer to renovate their space without harming the planet. Every door in the collection is made from 100% recycled raw wood that is FSC certified and is available in a range of high texture finishes, delivering a stylish, professional finish.
Neutral colour schemes
Light hues of stone grey, dusky pink, and off-white continue to be timeless classic, bringing a sense of chic, understated style to your space. This year, neutral shades will provide the perfect canvas to pair with pops of colour and different textures and accessories, creating endless opportunities for you to change up your space and inject personality into the room.
A muted colour palette is also a must for those looking to increase their sense of wellbeing in 2022, as using lighter shades has been shown to promote mindfulness and encourage relaxation. Incorporate biophilic design into your space by adding an abundance of leafy green plants to further boost your wellbeing and style credentials.
Multi-functional living
Spending more time in the home has not only shifted how we use our space, with many now balancing their work and play under one roof, but it's also encouraged us to think about how we can use our space more efficiently. Open plan living has gained popularity in the past and is set to be the aim with many renovations in the coming year, thanks to its ability to create more space and streamline how we live.
The home itself isn't the only thing that is becoming a favoured way to change up our space this year. Furniture is also set to transform the functionality of the home, whether its sofas acting as room dividers or glass doors creating the illusion of one seamless space.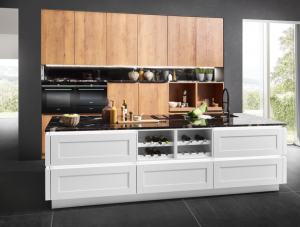 Islands are a great way to provide both a focal point and divider in your kitchen, too. Our supplier, Beckermann, seamlessly combines style and innovation, offering the perfect island for your every need. Whether you're looking for vast counter space, or a breakfast bar to enjoy a morning cup of coffee from, a kitchen island can provide you with more room to cook and a more inviting space to entertain.
Minimalist elegance
In 2022, we're embracing the 'less is more' mantra. Forget cluttered worktops and accessories galore and instead embrace the simplicity of your space. By keeping design and interiors simple and streamlined, you will create an effortlessly stylish look in your living room, bedroom or kitchen that invites a sense of calm, whether you're getting a good night's sleep or winding down or relaxing with family after a long day!
Opting for smart storage solutions is also a great way to hide those everyday essentials, keeping them out of site but within easy reach so that your space stays tidy. Laufen, one of our bathroom suppliers, offers a range of basin units that transform the look of your bathroom, but hides all of your everyday essentials behind a beautifully designed unit. Opt for soft-close cabinets without handles and ceramics with curved, organic shapes to create an uninterrupted aesthetic for the eye.
If you're renovating this year, get in touch with our expert design team to help you plan the perfect space.
For more design inspiration visit our design gallery or follow us on Instagram.