If you're thinking of renovating your kitchen this year, you're probably wondering where to begin, from designing the right layout and selecting surfaces to picking out the perfect colours and accessories. Of course, all of those elements play a vital part of creating your dream space, but don't forget to consider the importance of future-proofing your home with the latest technologies either.
NEFF, our kitchen appliance supplier, knows a thing or two about smart homes with its Home Connect system making the mundane day-to-day tasks a whole lot easier. Whether it's cooking, cleaning or entertaining, NEFF has everything you didn't know you needed in your home – until know!
Want to know more? We've put together an overview of the must have features of NEFF's Home Connect system so you can learn how it all works.
Start communicating with your kitchen
There's nothing better than knowing that the cooking and cleaning is taken care of, is there? With just WiFi, the Home Connect app and your voice, you can control your NEFF oven, fridge, dishwasher, hob, playlist and lighting!
Cooking made easy
Forget the endless back and forth to the oven, checking to see if your chicken is roasting perfectly or that your banana bread isn't burnt. Home Connect takes care of all that. Simply place the food in the oven and set it to the desired temperature and you'll receive a notification when it's all ready to enjoy – it'll even send your dinner party guests an email to let them know too!
NEFF wants everyone to unleash their cooking creativity too, so have teamed up with CKBK – the ultimate digital subscription service for chefs – to offer access to a collection of over 95,000 recipes, so you mix up mealtimes with different dishes and flavour sensations!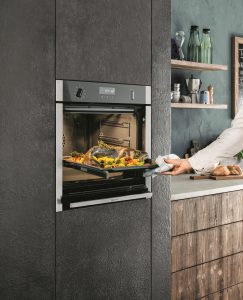 Smoke and steam be gone!
Conventional extraction fans can be bulky and often stand out as an eye sore in your kitchen, but with NEFF's hoods, ventilation is integrated into your hob, creating a seamless aesthetic. Plus, with the Cooktop-based Hood Control and Automatic Air Sensor feature, all smoke and steam is whisked away as soon as the hob is turned on! You can turn it on or off    using the app too, so you won't have to move a muscle.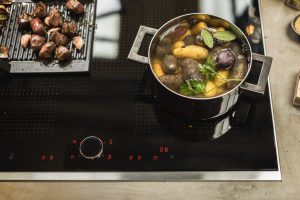 Keep it cool
Fresh produce doesn't stay fresh for long, even in some refrigerators. With a NEFF fridge, though, you can change the temperature of your fridge whilst you're out doing your weekly food shop, so it's nice and cold when you get home, keeping your food fresher for longer. The Storage Guide in the Home Connect app also tells you the ideal storage temperature for a whole range of food, from vegetables and meat to refreshing beverages, so you can change it to an optimal temperature. It even provides you with nutritional information too!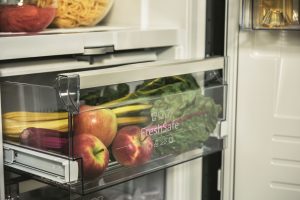 Squeaky clean dishes
Forgot to put the dishwasher on? Don't worry! You can start your dishwasher from anywhere, with Easy Start, via the Home Connect app. All you have to do is connect your appliance to the app and specify how big the load is and which setting you prefer. It will recommend the right cycle for your needs, so all you have to do is press start. Washing your dishes has just become even easier.
The Home Connect app has even got your back when it comes to keeping you stocked up on tabs. Simply fill in how many tabs you have and it will automatically reorder them, so you're never left with dirty dishes.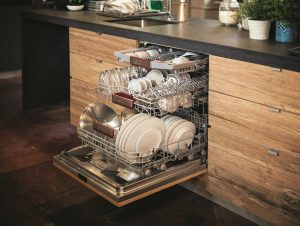 Set the perfect mood
If you're a regular host or are looking forward to many dinner parties in your newly renovated space, there's nothing more important than getting the ambience right. With NEFF's Home Connect though, you're sure to become the perfect host!
Whether it's energetic rays of yellow or green for entertaining or calming hues of blue and amber, you can easily change the colour of your kitchen, or configure your own, via the app, so you and your guests can really get in the spirit.
NEFF has also partnered with Amazon's voice assistant, Alexa, so you can ask it to brew you and your guests a cup of something hot. All you have to do it is collect it once it's been served – leaving you with more time to catch up with an old friend.
If you're looking to create a connected kitchen, visit our showroom and our expert design team can help you every step of the way, from design to installation.
You can also find more inspiration in our design gallery or you can follow us on Instagram.