Planning a renovation can seem like an intimidating task at first, especially if you're looking to overhaul an entire home. With so many things to consider, from design to decor, it can be hard to know where to begin and what to consider.
If you're simply not sure where to start, don't worry – we're here to help! We've put together our top tips so you can easily spring into renovation mode and create a space you'll love for many years to come.
Plan, plan, plan!
It's easy to focus on the fun elements like aesthetics and accessories when transforming your space – whether it's paint colours, furniture, cushions and door handles – but careful planning is the first step (and the most important one!) to creating the perfect room.
It can seem pretty daunting at first, with so many big decisions and small details to think about before you can get down to ripping out your old space. Considering things like which area has the most natural light or what area you might gravitate to more in the mornings and the evenings can seem like miniscule details, but all of them combined can have a massive impact on the way you use the room and the ambience that it creates.
The key is not to rush – make sure you give yourself enough time to consider what might work best for you and your family, so if you need to go back to the drawing board further down the line you can do so without causing major disruption! It's also worthwhile enlisting the help of a professional, to help look after all the technical aspects, such as measuring accurately and considering plumbing and electrics, to make sure everything runs smoothly.
Future proof your home
Want to make life easier and make sure your home works for you for years to come? Take time to research the latest technologies and innovations to futureproof your home and make sure you have everything you need at your fingertips!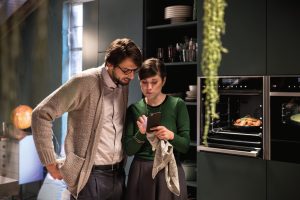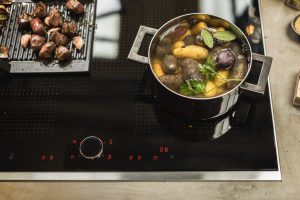 Our kitchen appliance supplier, NEFF know a little something about smart homes, with its Home Connect system taking care of everything. Whether its controlling the dishwasher, changing the temperature of the fridge to keep your fruit and vegetables nice and fresh, or preparing a coffee for you just as you walk through the door – it's all controlled from the NEFF app and can all be changed by the push of a button!
If you're looking to save some time in the kitchen, the Quooker hot tap can help you cook up a storm with ease. With hot water being dispensed directly from the tap, you can take the stress out of Sunday lunch as your potatoes and vegetables will boil instantly, leaving you with more time to put your feet up with a warm brew, or something stronger.
If you're a regular entertainer, installing things can help up your hosting game, delivering crisp, cold beverage for your guest to enjoy all night long.
Choose your style
If you're struggling for inspiration, or you want to see a selection of traditional and contemporary designs in one place, visiting a showroom can be a great way of finding out what you like and don't like if you're still undecided on the overall look you're after.
Here at Creative Interiors, we have a range of kitchen, bedroom and bathroom suppliers, including Daval, Beckermann, Vitra and Laufen who offer a range of styles, so you can browse each design up close. Whether it's comparing counters, deciding on the right colour cabinets, or finishes of materials, seeing it all in person can give you a better idea of how things will actually look in your own home.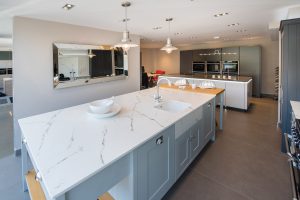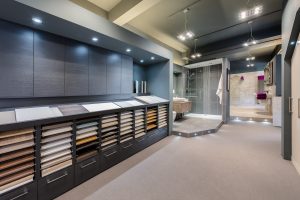 We also have a team of design specialist at our showroom, who are always on hand to answer questions and provide practical advice to help you make those important decisions, taking all of the stress out of renovating.
Carefully consider décor and accessories
If your space is a little bit smaller than you'd like, you don't need to knock through walls to create a bigger space. Whether it's the bedroom, kitchen, bathroom, living room or snug, introducing accessories such as mirrors can help to create the illusion of a bigger space. Plus, if you're looking to make it seem even bigger, placing them adjacent to window can work wonders! It's an effective and inexpensive solution! Your style and décor doesn't have to be compromised either. Why not opt for a beautiful chinoiserie mirror if you're looking for a more traditional look, or a geometric effect mirror if a contemporary space is the aim.
Opting for light subtle shades can give the illusion of a bigger space too, but if you're looking to achieve a more cosy space, you can dress the space up with darker soft furnishings, such as curtains, cushions, throws and rugs, to add texture to the room. They can easily be changed too, so you can alter the ambience and feel of the space easily.
Why not get your renovation journey started today? Book an appointment here to start planning your dream space.  We'll work with you throughout the entire process, from initial design to installation, to make sure that everything is perfect, right down to the very finest details.
You can also find more inspiration in our design gallery or you can follow us on Instagram.