The bathroom is one of the most used rooms in the home, with the whole family using the space daily to get ready for a busy day ahead or unwind afterwards, so it's easy for clutter to creep in. Finding and creating space to store all those toiletries and towels can seem like an impossible task, but don't worry! Our premium manufacturer, Vitra Bathrooms, offer a whole host of smart storage solutions to help you make the most of your space, and our expert design team are on hand to help incorporate them into your new bathroom.
So, if you're renovating this spring, check out some of the must-have design innovations to help you create a space that is both stylish and functional.
Opt for a vanity unit
While stand-alone or wall hung basins make a real design statement, the space underneath the sink is the perfect place to incorporate additional storage. Small bathrooms in particular need to utilise every inch of space, so opting for a vanity unity with built in cabinets is a great solution for keeping your daily essentials, cleaning products, bath time holy grails and hand towels stored away, keeping your surfaces free from the clutter.
We offer a wide range of stylish vanity units, so you can be sure that your bathroom will stay on trend. They not only offer a sleek and stylish aesthetic, but include interior compartments, so those everyday essentials are stored out of sight while remaining within easy reach for daily use.
Introduce integrated shower shelving
There's nothing worse than having no space to store your shampoo and soap in the shower, so if you're in the early stages of your bathroom renovation, take the opportunity to create a recessed ledge or shelf in the enclosure by building a stud wall around your plumbing. This will allow you to store your essentials in a space that looks super stylish without adding bulky storage baskets, and it hides unsightly pipework, too! Our expert designers, Tim and Russ, are on hand to advise if it's possible to create recessed shelving in your enclosure – just ask!
Make the most of your mirror
Mirrors are an obvious essential in the bathroom when we're getting ready for the day ahead or completing our evening skincare regime, but they can also create the illusion of a bigger space, making a vital design addition too! Choosing a mirror with integrated storage offers the additional benefit of providing space to hide all of your cream, lotions and potions, eliminating the need for another cupboard or unit that can make the room feel cramped.
Vitra Bathrooms understands how precious space can be in the bathroom, and so offers the perfect mirrored cupboards that is sleek and stylish, with plenty of shelf space, incorporating two bathroom necessities in one. What more could you ask for?!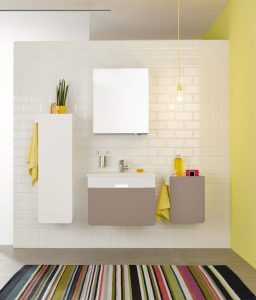 Store items in plain sight
Floating shelves can add a lot of value to your bathroom and look fantastic placed above basins, toilets, or even above your door, storing any smaller items that aren't used as regularly. They're also a great way to add some finishing touches to your space, whether it's with some trailing plants, candles or your more luxury bubble bath that you save for special occasions.
Choose tall cabinets to maximise small spaces
When it comes to the bathroom, you can never have too much storage, so think vertical! Wall mounted tall cupboards are a fantastic addition to small or awkward spaces and optimise the area available, ensuring every inch of your space is clutter free. Opting for wall mounted cabinets is also a great way to free up floor space, which can create the illusion of a bigger space.
Vitra Bathrooms have a versatile range of wall cabinets for every size and style of bathroom. Whether it's contemporary of traditional, you will be sure to find the perfect style for you!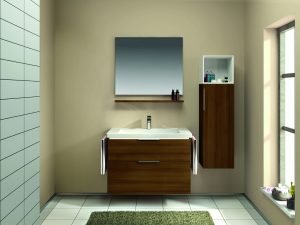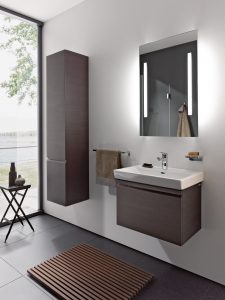 If you're looking to create the ultimate organised bathroom, visit our showroom and our expert design team will be able to help you create your dream space, all the way from initial design through to installation.
You can also find more inspiration in our design gallery or you can follow us on Instagram.