Although we might not always get as much sleep as we'd like, on average, we actually spend around a third of our lives in bed! That's why it's so important to invest in your bedroom to create a relaxing, well organised haven, so that you have a tranquil sleep space to retreat to the end of the day.
When you think of a soothing bedroom, you might think of comfy throws, a well-made mattress, and all of the other finishing touches that can transform your space into the perfect place to unwind, but there's so much more to consider. Our expert design team have put together their top four tips for a bedroom that welcomes total bliss.
Master your layout
The layout of a bedroom is given little thought by some, but this is an important first step when revamping your room. It's important to think about how your space should function, as well as its aesthetics, to help bring balance and harmony.
Positioning your bed directly in front of a doorway can disrupt both the functionality and feng shui of the space, so make sure it's placed adjacent to the door and the headboard is pushed up against a wall. Positioning your bed in the middle of the wall will allow you to create a symmetrical style that's pleasing on the eyes while maximising the space in the remainder of the room. Making sure the other three sides of the bed are free of space is also thought to be a great way to achieve more positive energy.
To create ultimate harmony in your sleep space, it's important that you keep your bedroom as a single-use space. Using the room as an office or a place to exercise can disrupt the harmony, which making it harder for you to unwind at night and switch off from the daily to do list.
Let there be light!
Lighting is everything when it comes to relaxing at the end of the day, so it should be an integral part of the design of your space. It's best to keep your bedroom light and bright in the day so make use of your windows to welcome in lots of natural light into your bedroom Placing mirrors on walls adjacent to windows can also help to bounce light around the room, helping to fill darker areas and illuminate them with light. Reducing light as the day draws to a close will help you enter a state of relaxation. Dimmer switches are a great choice for evening time too as you can alter the lighting gradually reducing the brightness and illuminating the room with subtle, warm tones.
Bedside lamps are also a great addition to the space as they emit small hubs of warm light that can be easily altered while you're in bed, so make sure you consider plug sockets next to your bed during your planning stage!
Must have smart storage solutions
The key to a relaxing sleep space is to keep your design to a minimum. Filling spare surfaces with accessories or having free standing wardrobes can make your space feel cluttered, so it's important to think about suitable storage options to help keep everything you need out of sight, but easily within reach.
Our bedroom supplier, Daval Furniture, produces bespoke fitted wardrobes, helping you create a space that is designed specifically to your needs, so your bedroom can be neat, tidy and clutter-free. You won't need to compromise on design either as there are so many different collections to choose from, helping you bring your design visions to life. Fitted wardrobes can also help if you're dealing with awkward spaces, so no matter the size or shape of your bedroom, they can help transform every corner so everything has a home of its own.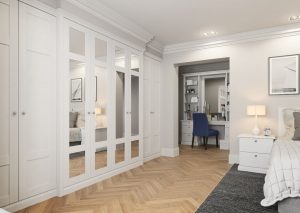 Choose a soothing colour palette
You might be a fan of a bright and bold colour palette, but you should avoid using them in your bedroom. Instead, opt for calming tones, such as lavender, sea blue, sage green, beige and white to create the ultimate tranquil space that will have you drifting off to sleep in no time!
If you feel like your space need a little colour though, you can incorporate subtle additions of colour through the use of accessories – whether it's with rugs, candles, photo frames or maybe even a throw – that can be switched out or stored away if it's interfering with the calm feng shui!
Houseplants are also a great way to incorporate a touch of biophilic design while adding some serious style points. With the ability to banish toxins from the air and their natural shades of green, they make the perfect décor piece that will not only spruce up your space, but it will create the perfect environment to relax and de-stress, too!
Creating your dream bedroom while making it the perfect hub of relaxation can be a hard balance to strike, but with these top tips and our expert design team, we can help transform your sleep space into the perfect cocoon to retreat to after a long day to truly unwind and de-stress. Book an appointment with us today and turn your dreams into a reality!
You can also find more inspiration in our design gallery or you can follow us on Instagram.